Scam Alert – Scam Text Messages
DON'T BE FOOLED

Enterprise Bank of SC will never ask for personal or financial information, like usernames, passwords, PINs, or debit card numbers via text message.
Please be aware that scammers have started sending out numerous unsolicited text messages that reference "fraud" on a debit card. These scammers know most people have a debit card, and that people are likely to respond to messages about their card(s). The scammers do not actually have the recipient's personal information but attempt to obtain valuable personal information through these text messages to defraud the recipients. These messages are not from Enterprise Bank of SC and are an attempt to steal personal information from recipients by impersonating the Bank. Enterprise Bank of SC does use text messages to verify transactions when fraud is suspected on a customer's debit card, but legitimate text messages from Enterprise Bank of SC will never ask for personal information or ask recipients to click on a link. Legitimate text messages from Enterprise Bank of SC will reference a transaction, amount, and specific debit card. The legitimate messages will only solicit a "YES" or "NO" response to confirm or deny fraud. Please see the examples below.
Fraudulent/Phishing Text Message Example:

Legitimate Debit Card Fraud Alert Text Message from Enterprise Bank of SC Example: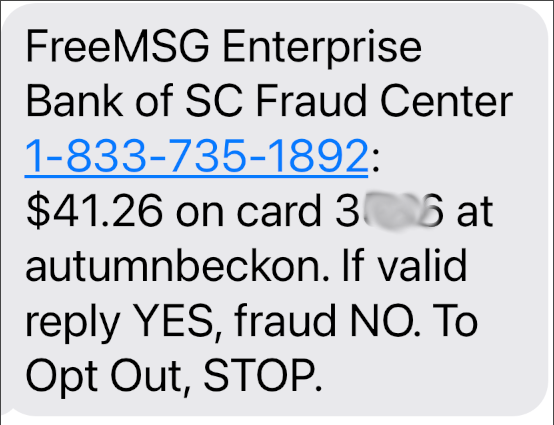 How to best protect yourself:
Use our free EBSC Mobiliti App with Card Controls. Card Controls let you have total control over your debit card(s). You can see all your transactions in real-time and can enable/disable your card(s) with a single tap. To learn more see our Card Controls page.
Don't be rushed by unexpected messages. Phishing scams attempt to create a false sense of urgency by implying that an immediate response is required or that there is a limited time to respond.
Don't "click" links in unsolicited text messages. Clicking the link may infect your mobile device with a virus or malware designed to steal the personal or financial information stored on the device.
Don't respond to phishing messages, even to ask the sender to stop contacting you. Responding to phishing messages verifies that your phone number is active and that you are willing to open such messages, which may lead to an increase in the unsolicited text messages you receive.
Use caution when providing your cell phone number or other information in response to pop-up advertisements and "free trial" offers. This personal information can be easily bought, sold, and traded, and make you a target for phishing scams.
Never provide your personal or financial information in response to text messages from unknown senders. Verify the identity of the sender and take the time to ask yourself why the sender is asking for your information.
Use the same safety and security practices on your cell phone as you do on your computer: be cautious of text messages from unknown senders, as well as unusual text messages from senders you do know, and keep your security software and applications up to date.
When in doubt, call the Bank to confirm the authenticity of the message. 
If you receive a phishing or spam text message, you can report it to the Federal Trade Commission. See the FTC website for more information on reporting these type of scams.