Scam Alert
DON'T BE FOOLED

The postcard below is not from Enterprise Bank of SC: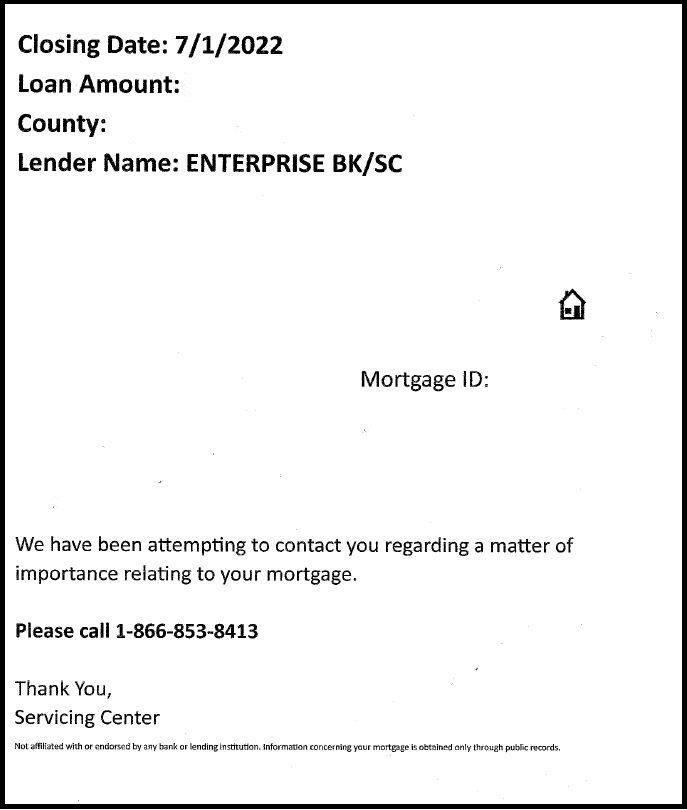 Recently we've seen a rise in mysterious postcards being mailed to customers referring to a recently closed mortgage you may have with Enterprise Bank of SC. It will ask you to call a phone number to discuss the matter. These postcards are not from Enterprise Bank of SC. If you receive a postcard like this, It is a scam and do not call the number!
Enterprise Bank of SC would never send you a postcard requesting that you call us regarding your mortgage. All communications regarding your personal accounts would be through first class mail in sealed envelopes, through secure email personally addressed to you, or by direct phone calls.
Here are some tell-tale signs to watch out for letting you know it's a scam:
On the bottom, you'll see a statement like "Not affiliated with or endorsed by any bank or lending institution. Information concerning your mortgage is obtained only through public records". All of our communications would clearly state that it is from Enterprise Bank of SC.
Postcards coming from names such as Loan Depot, Servicing Center, and Mortgage Protection Services. 
You'll notice a Mortgage ID number displayed. Enterprise Bank of SC would not show any personal information of yours on a postcard.
The phone number displayed does not match any Enterprise Bank of SC phone number.
The fact that it's a postcard instead of a sealed first-class letter is a big red flag.